In this blog, Bee Farrell writes about a recent workshop at the Royal Society of Medicine where the Caring Collective debated the future of health and wellbeing, following their Wolfson Prize award-winning submission.
"Through the challenging months of Covid-19 'health as the nation's primary asset' became centre-stage in all aspects of society. The 2021 Wolfson Economics Prize set this timely challenge for their international competition;
How would you design and plan new hospitals to radically improve patient experiences, clinical outcomes, staff wellbeing, and integration with wider health and social care?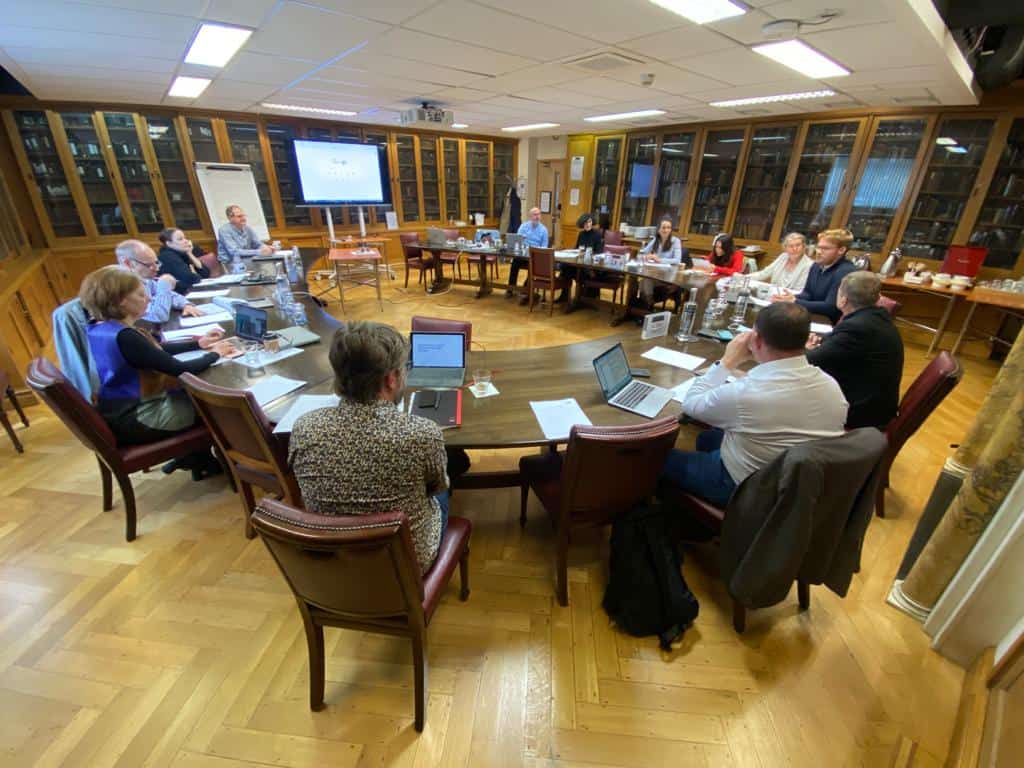 Excited by the challenges and opportunities, the LDN Collective team and our valued partners were not short of insightful observations and creative ideas. We set to work with focused conversations, interviews and break-out sessions to produce a 10,000-word illustrated submission which you can download here.
Our mosaic of skills and knowledge was enriched by partnering with global leaders in the planning, design and operation of hospitals and wellbeing facilities. Together with JLL, Siemens, Therme Group, DAR and Perkins & Will, The Caring Collective was awarded one of three, out of 250 entries from 15 countries, which was highly commended. An important accolade at a time of a global pandemic, a new programme where 40 of our 1,229 hospitals are due to be refurbished or rebuilt at a cost of $3.7 billion within the next ten years, and the urgency of prevention rather than cure becoming our health and wellbeing model.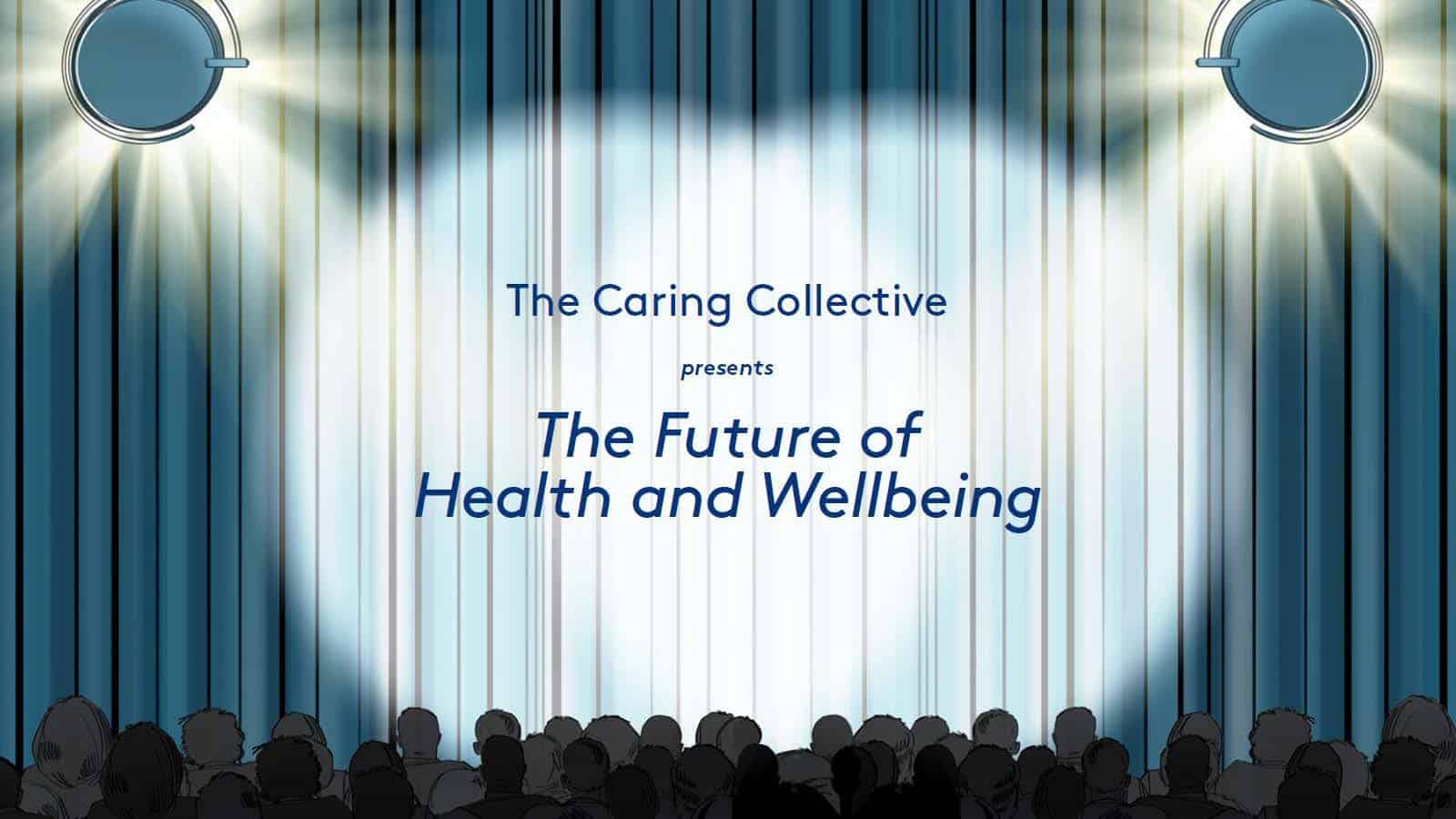 With our prize money we decided to run a half-day, face-to-face workshop at The Royal Society of Medicine for LDN Collective members and our partners. The objectives were to reflect on the submission, develop a value proposition, identify audiences and discuss strategies for engagement. The workshop was driven by our commitment to ensure that the Collective's interdisciplinary and diverse skillsets are positioned to purposefully influence and positively impact change.
As a definable and impartial entity, there are many windows of opportunities for us to work with stakeholders at different stages of planning and development. So, the challenge for the morning was set. How can The Caring Collective disrupt institutional thinking and practice? How do we ensure that our unified, yet diverse team is not seen as a cacophony but a well-practiced orchestra?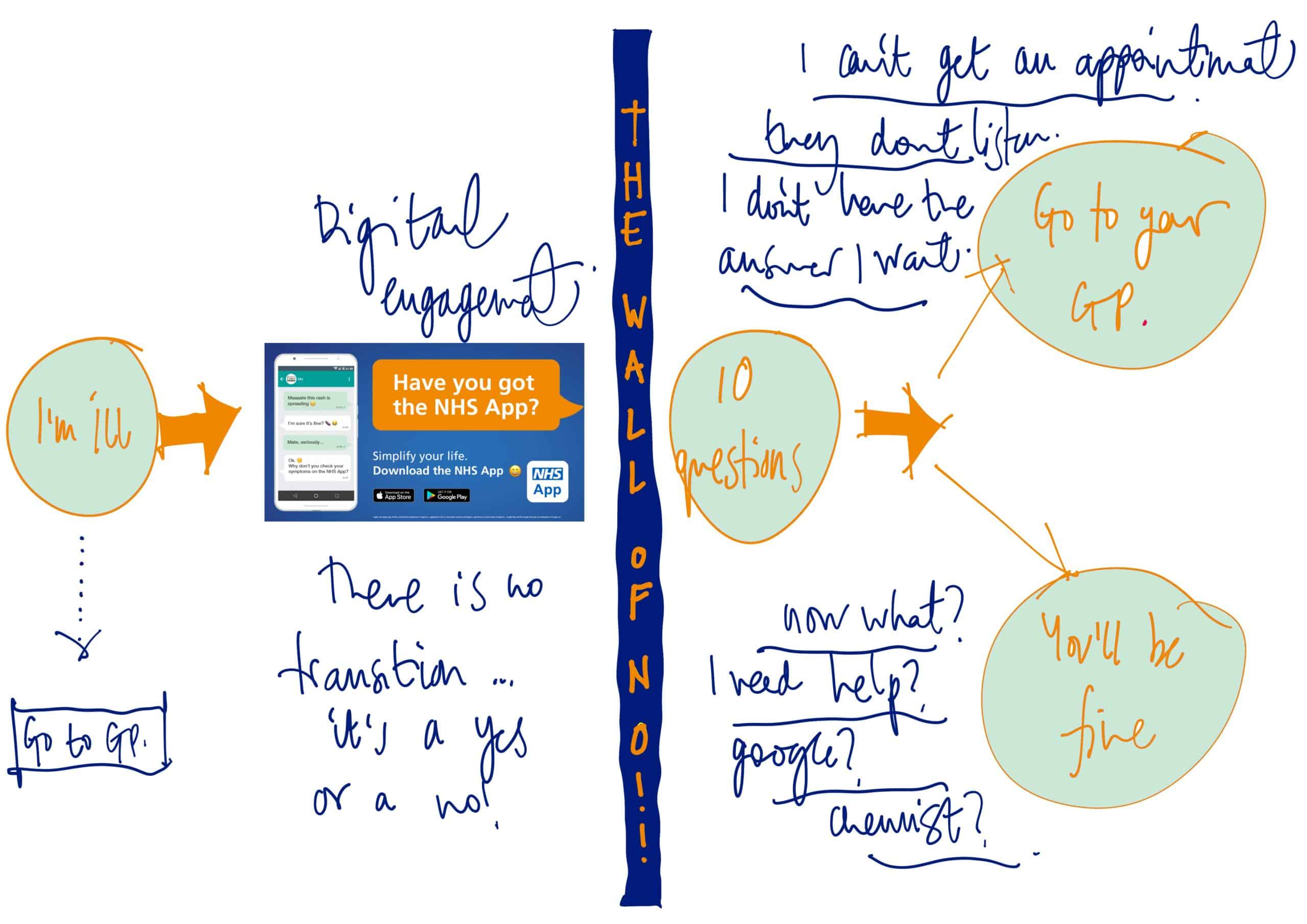 We believe that our identity, which was energetically demonstrated in the workshop, is of a streamlined and human-centred group of specialists. A multi-dimensional model that is powerful and achievable in today's technological and computer mediated world, one that recognises the gift and vulnerability of nature. Of the 34-contibutors to the submission, 13 were represented around the horseshoe table in the Marcus Beck Library and we spent three-hours reviewing and developing what our multidimensional and integrated thinking could look like as a tangible offer to clients, partners and the public.
Our six guiding principles (People-Centric; Adaptable; Sustainable; Technologically Smart; Value for Money; Civic and Community Beacons) enables total healthcare to be embedded in the wider community, with wellbeing ecosystems prioritising health at home. The workshop reaffirmed our dedication to net zero, nature-based, beautiful, technologically smart, community and human-centred wellbeing design.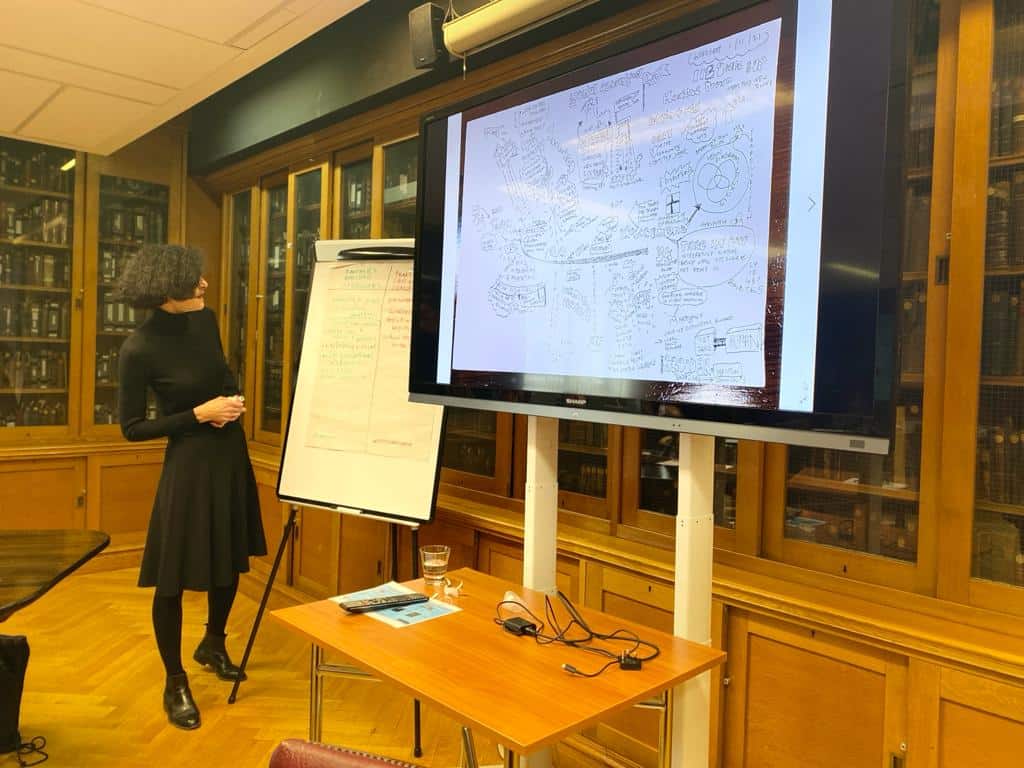 Through the discussions, drawings, list-making and draw-taking a firm roadmap emerged to to take things forward. The LDN Collective breaks down silo thinking, harnesses the opportunities of private-public partnerships and collaborates with international movers and shakers. The seamlessness of this is in our DNA and makes us valuable at all stages of a project.
We have social scientists and data specialists that demonstrate how behaviour, accessibility and awareness are key to success; architects and landscape designers skilled at embedding nature and high quality design as essential building blocks for healthy urban places, and partners who apply ground-breaking expertise gleaned from international financial modelling, patient-led approach strategies, embedded technology and wellbeing ecosystems.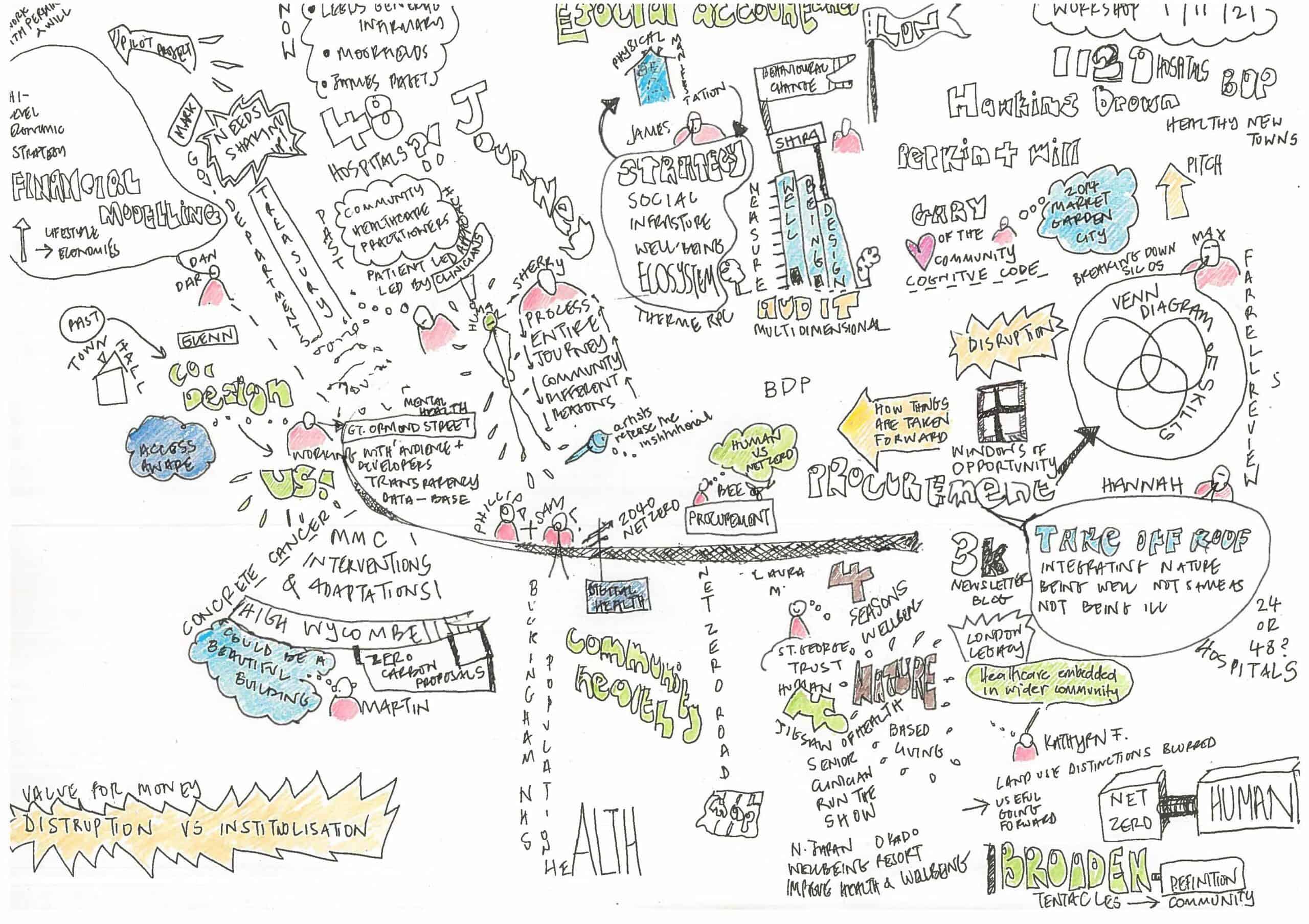 Our strength is holistic thinking that can be applied on a site or city-wide basis. We are a jigsaw of well-fitting pieces that can be adapted to suit each client or project, from a total vision to curation of elements that could include a policy review, multi-dimensional audit or post occupancy evaluation.
The 'product' we offer is agile and response-led, with a diverse group of specialists offering high-quality solutions that can 'plug-in' anywhere along a project timeline. We identified the following services we can offer at different stages including;
1. Policy Reviews & Advocacy (NHS Strategic Level)
2. Building the Brief (NHS Foundation Trusts and Wellbeing Developers)
3. Audits & Peer Reviews (for design teams pre and post-planning)
4. Post Occupancy Evaluation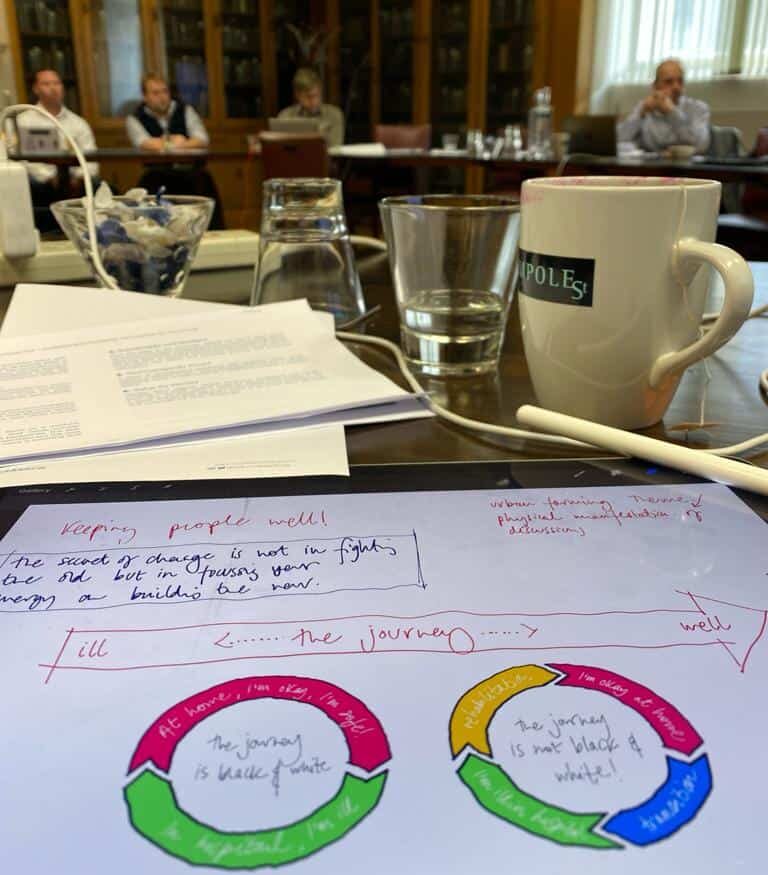 We see our health and wellbeing offer as contributing to the national journey that our healthcare will take in the future and we are excited and ready to work with the NHS, developers and communities to achieve this.