This summer, climate change and the biodiversity crisis have become all too real with wildfires in Siberia and North America, flooding in Germany and the hottest and wettest days ever recorded in the UK. At the same time, the unaffordability of homes has become clear for all to see, with house prices hitting record levels alongside global temperatures. Doing nothing is not an option under these circumstances.
What we can do is create new places with a minimal impact on the environment and positive benefits for existing and new communities. We can't deliver environmentally sustainable homes unless we also work hard to create socially and economically sustainable places. So when the LDN Collective were commissioned by Summix to create a vision for a 21st Century new community at Fulford Green in Solihull, that was our starting point. Making a sustainable community, not just sustainable homes.
We have developed a vision to create a genuinely sustainable garden village with approximately 1,800 homes of different types and tenures, a new high street for local entrepreneurs, a primary school and new public parkland serving existing and new communities. All of this can be delivered to the highest environmental standards, learning the lessons of Covid, and making a place that we would all want to live in.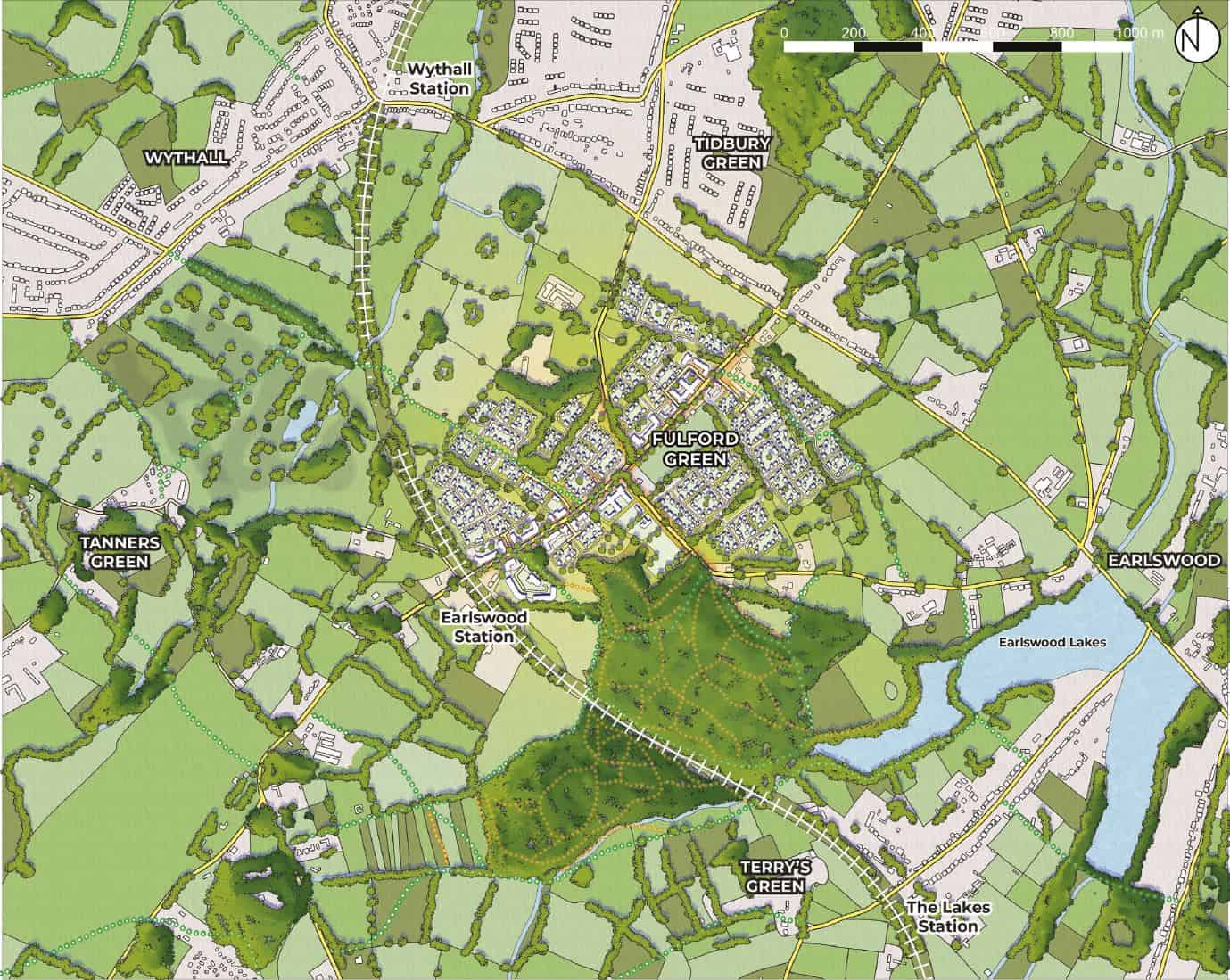 There is significant investment and growth currently being planned for in the West Midlands region, with major regeneration projects like Arden Cross catalysed by major infrastructure projects like HS2 and the Commonwealth Games arriving next year. Yet we are still not meeting the housing needs to accommodate this anticipated growth, let alone sustainably.
Solihull has a target for 15,000 homes but almost everything that is not already developed is designated green belt. People fear unsustainable and unattractive overdevelopment. New housing estates tacked onto existing communities are often commuter dormitories, draining existing services and increasing pressure on infrastructure. No wonder people are afraid that a 'new community' is really code for a housing estate in the countryside.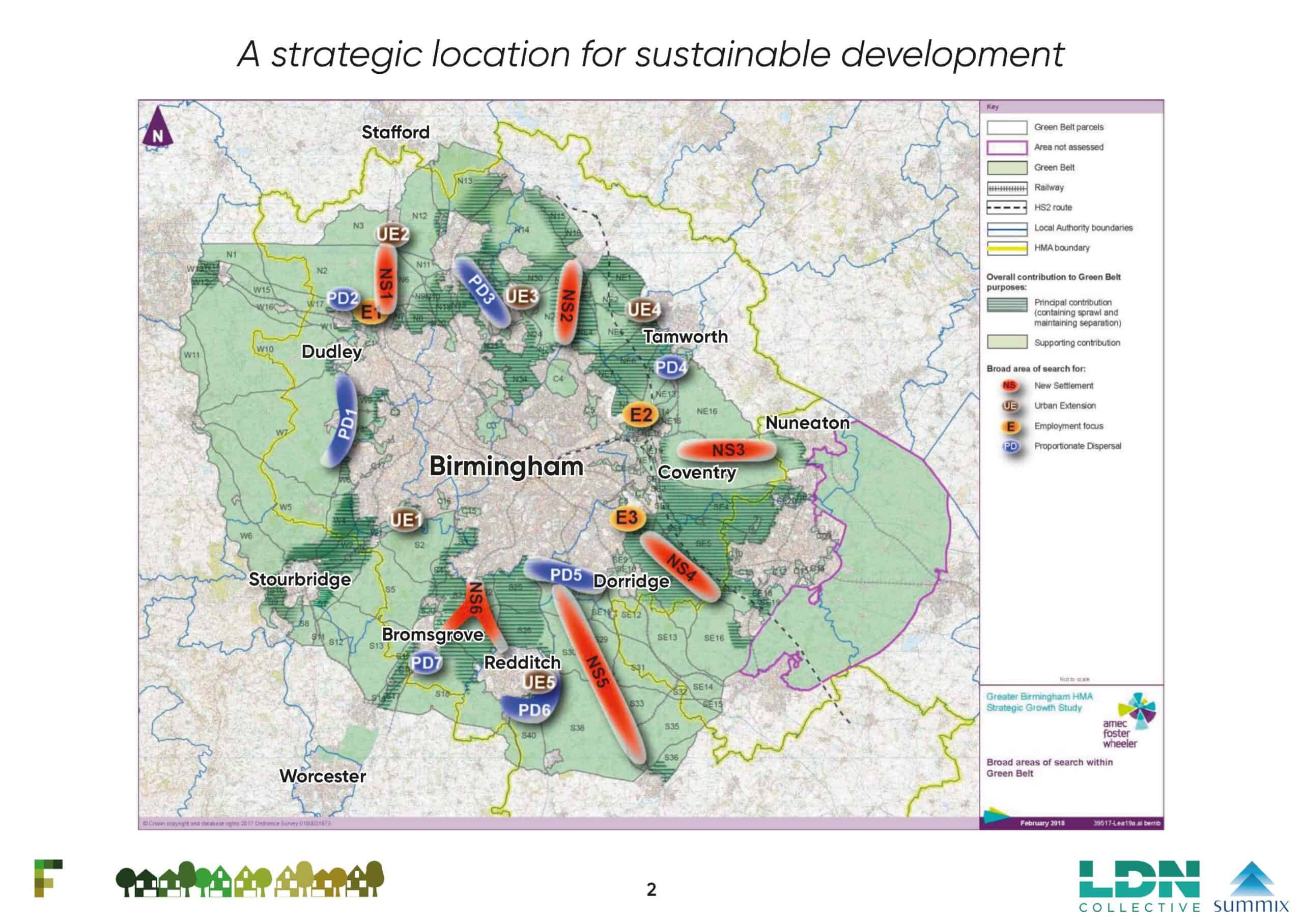 When we set out to create a vision for a new community at Fulford Green, we started in a different place. We wanted to understand the history, the community, the landscape, travel patterns and ecology, all of which are complex and layered. The location is adjacent to Earlswood station, which is currently underused with a service that could potentially be improved. To the South is Clowes Wood, a site of special scientific interest with a fantastic amount of biodiversity, and the lakes to the East store water for the Grand Union canal.
There is a very significant amount of natural capital here.  Any sustainable development should enhance and provide better access to all this, not destroy it. It is a rich landscape to be working with, giving us the opportunity to create a really attractive and sustainable place.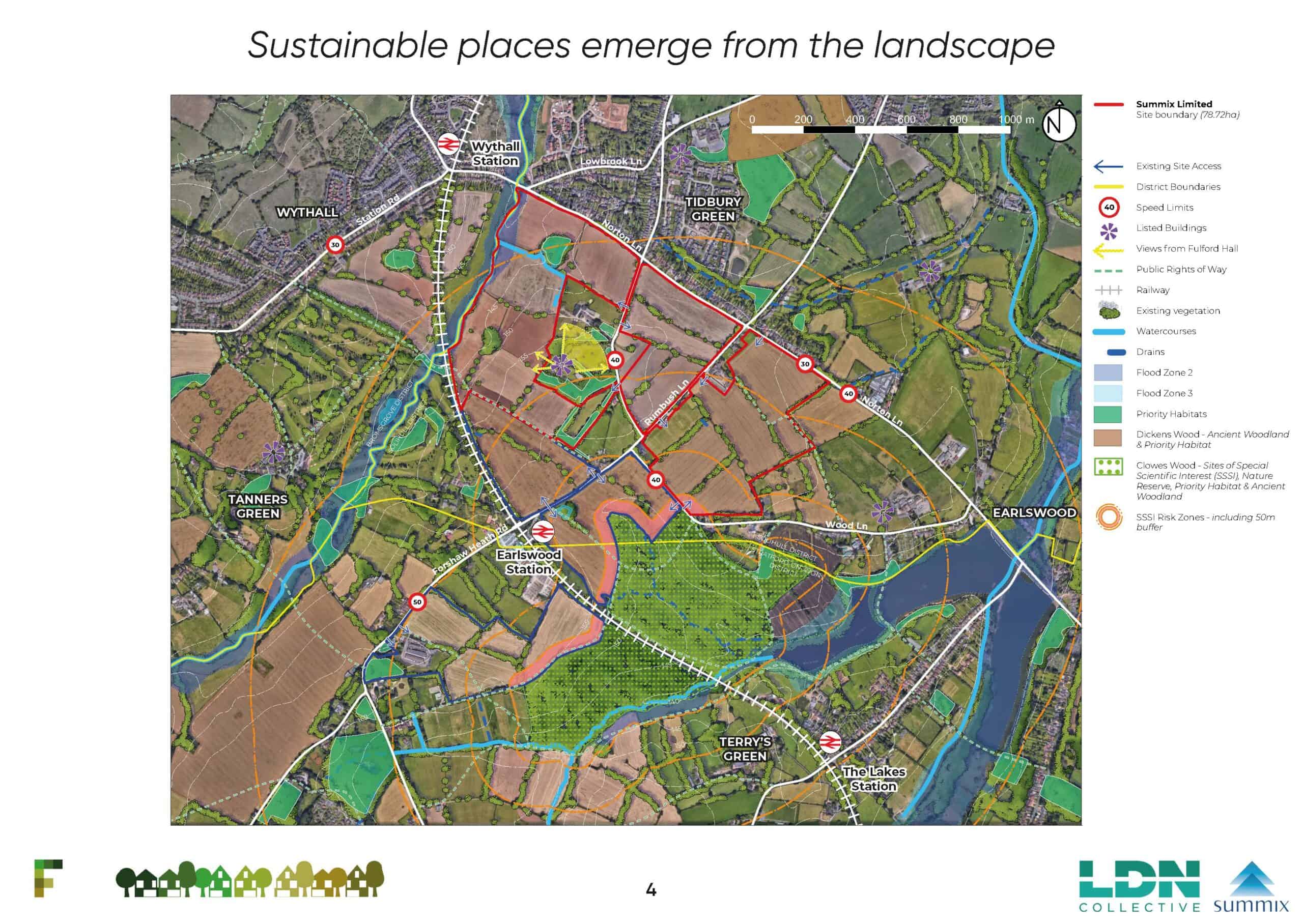 This concept diagram shows the strategy we developed to define the shape and form of the settlement. It is led by landscape and sustainable travel patterns, not the layout of housing blocks as is often the case. Solihull is very car dependent as things stand, so we are designing in reasons not to drive, enabling people to live locally with a primary school, farm shops, great internet and open spaces. With careful planning and design, we can make sustainable lifestyle choices more attractive and convenient.
Our strategy is based on three S's – substitute, shift and switch. Active travel is encouraged by walking and cycling routes including green corridors along the railway line, from the listed building and a green buffer between existing communities which is the length of two football pitches. Rumbush Lane forms a natural 'high street' to and from the underused station. We want to create a community with strong local services, green spaces for recreation and the high street as the heart. By being socially and economically sustainable, we can internalise movements, as people can walk to the high street and the school, with homes designed for home working and great internet, local cafes as work hubs and meeting places.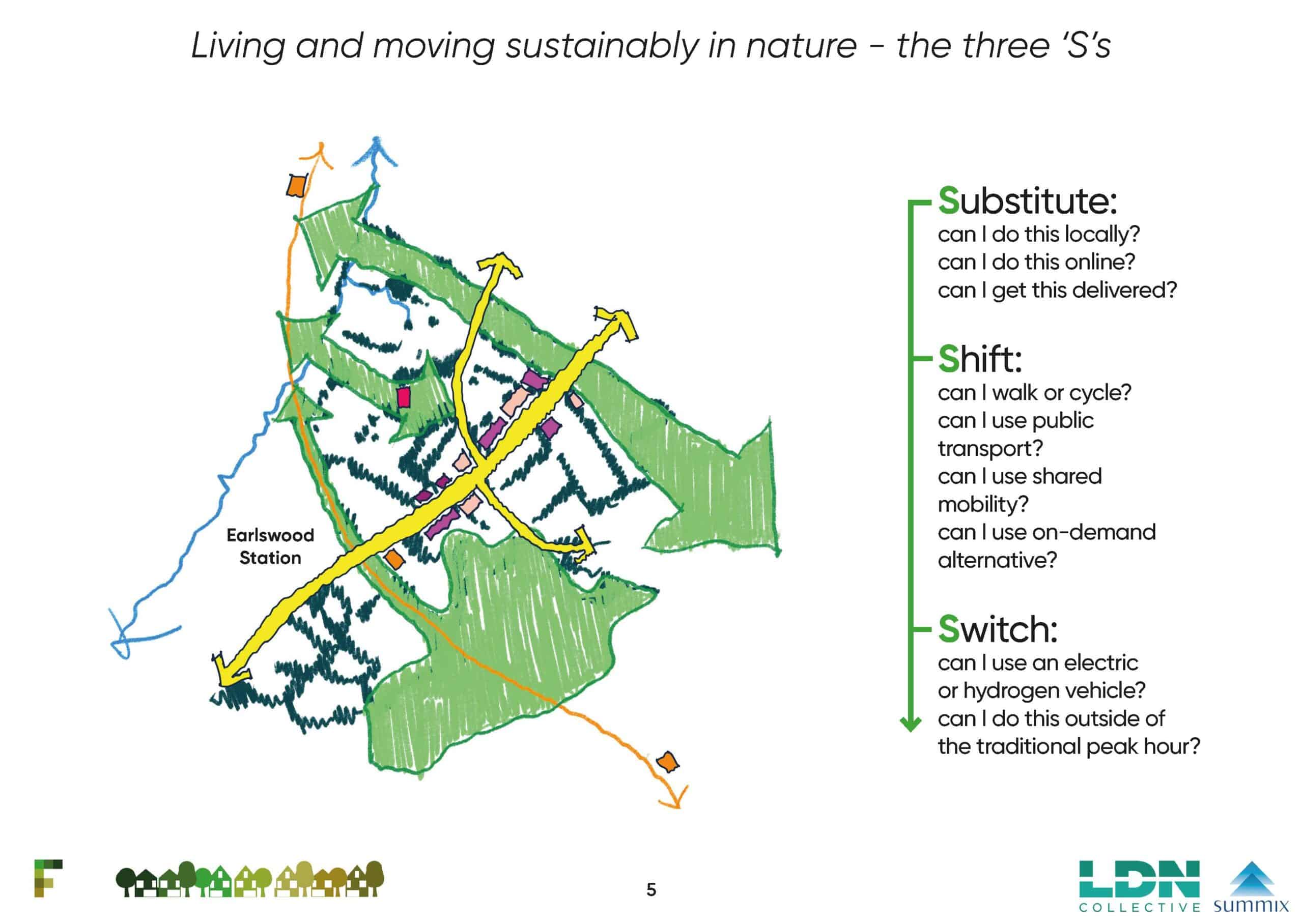 Critical to the planning of a great high street is creating spaces for local entrepreneurs to thrive, a neighbourhood high street with independent shops and retailers rather than Costa Coffee and Tesco Metro. Nansledan is a project introduced to us by the sustainable communities expert Lord Matthew Taylor, a strategic advisor to our masterplanning team on Fulford Green. It's a new community in Cornwall which has high quality homes, and critically, early delivery of small scale shops which are under the threshold for rateable value, so they don't need to pay business rates. They have traditional shopfronts which work for a variety of uses, whether it's an Italian restaurant, butchers or a hairdressers, and they are ready to move into. Not just the usual retail 'shells' with huge fit-out costs, which are suitable only for national retailers and chains. At just 250 homes built of the planned 4500 at Nansledan, they already have three cafes, a yoga studio, florist, wedding shop, solicitors and more. It isn't subsidised, they are small and simple units which are easy and affordable, and it has attracted local entrepreneurs who are thriving. At Elephant Park, a new community in South London, they took a similar approach, calling it affordable retail.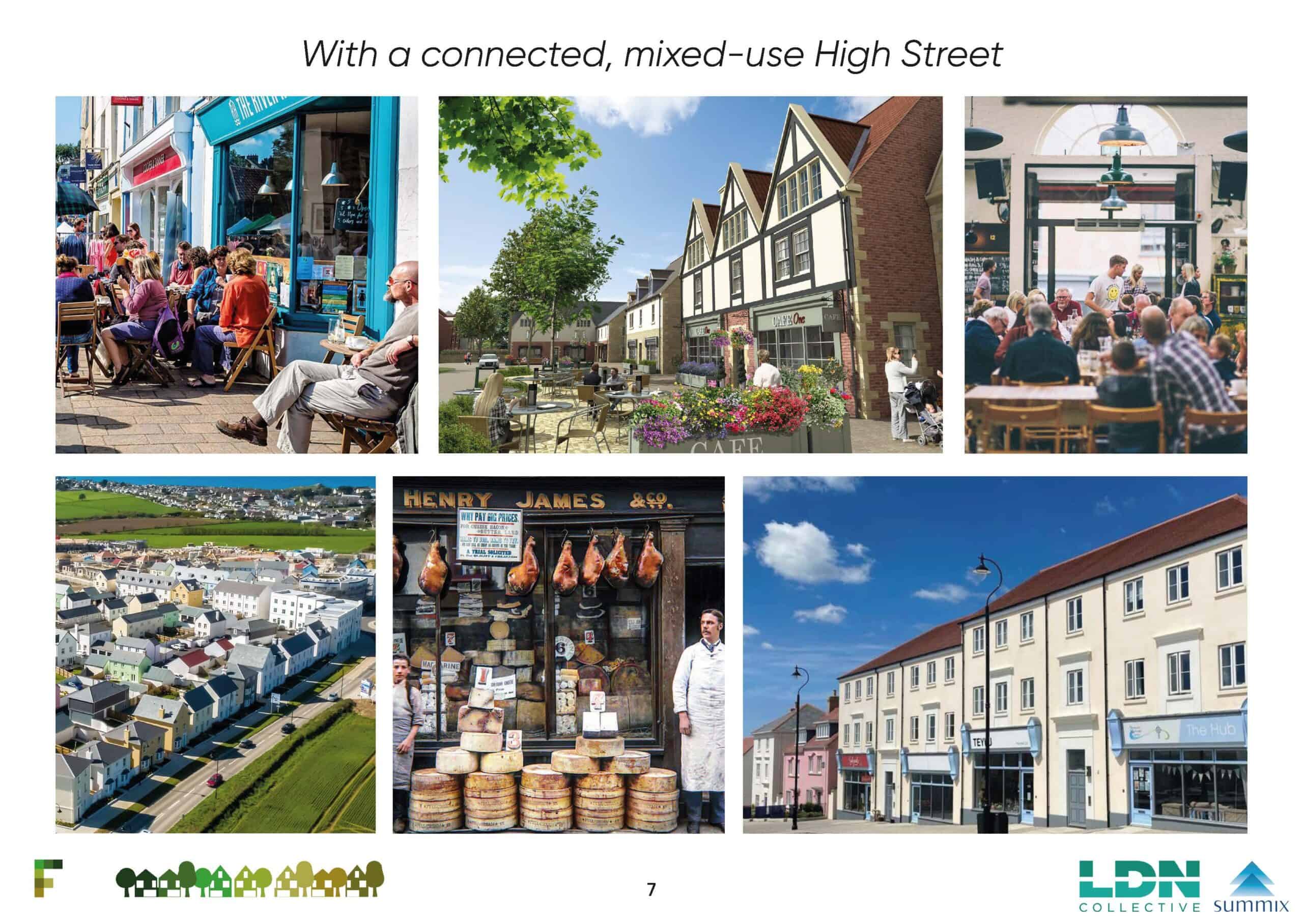 Here is an early sketch for the village centre at Fulford Green. It makes the most of the station at one end of the new high street, which prioritises active travel (walking and cycling) and low carbon travel (trains and electric vehicles with charging points) providing space for local and independent retailers which compliments and doesn't compete with surrounding village and town centres. Naturally, Fulford Green will be net zero carbon ready, but frankly this was the bottom line. All new development should have well insulated buildings, zero carbon heat, electric vehicle charging points, cycle friendly streets, and increased biodiversity. In an era of climate crisis we think these are essential, but by themselves they don't make a sustainable community.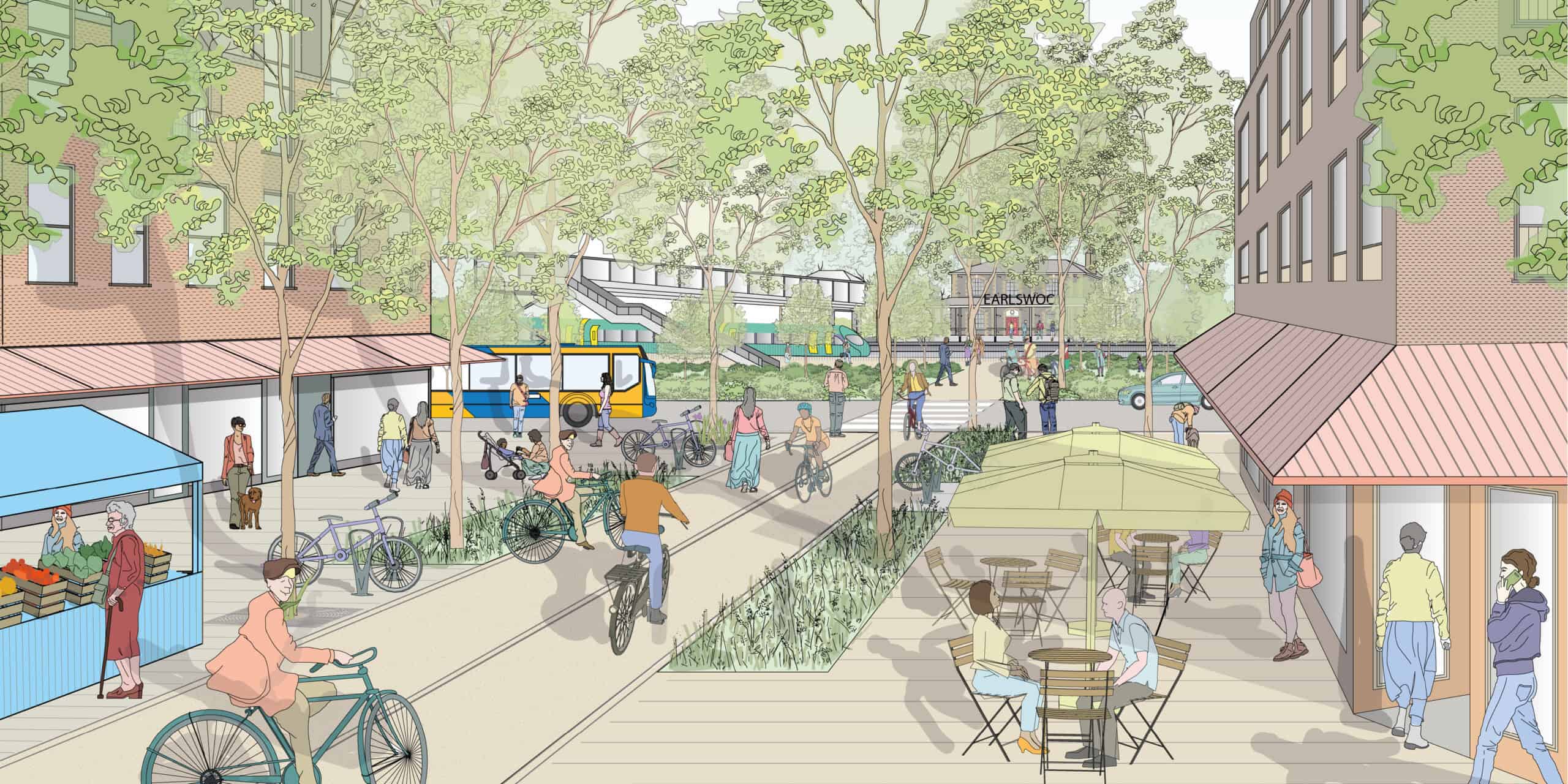 All these threads come together to create the plan for Fulford Green – landscape, connectivity, and a great mixed-use offer with fantastic access to nature for recreation and leisure. So for all your day to day needs, there is no need to jump in a car. All of this is much easier to deliver in a new community than retrofitting an existing one, or building an urban extension, let alone a series of bolt on housing estates. Fulford Green will have homes for rent, for sale, for later living as well as affordable homes for local people, particularly shared ownership and starter homes for local young people to help them get on the housing ladder. They will be net zero carbon ready, meeting the highest environmental standards, but so much more is needed to make it truly sustainable. The community high street will make it a vibrant place with everything you need on your doorstep, a zero-carbon primary school manufactured offsite (a locally based manufacturer who we are talking to at the moment specialises in this) to provide a great local school you can walk to, new public parkland and setting for the wonderful Fulford Hall with better access to the existing woodland and lakes.
This is why we believe Fulford Green is a blueprint for sustainable placemaking. Socially and environmentally sustainable, complex and layered. But places are nothing without people. So we are now very committed to engaging with the local community, to evolve the vision for Fulford Green.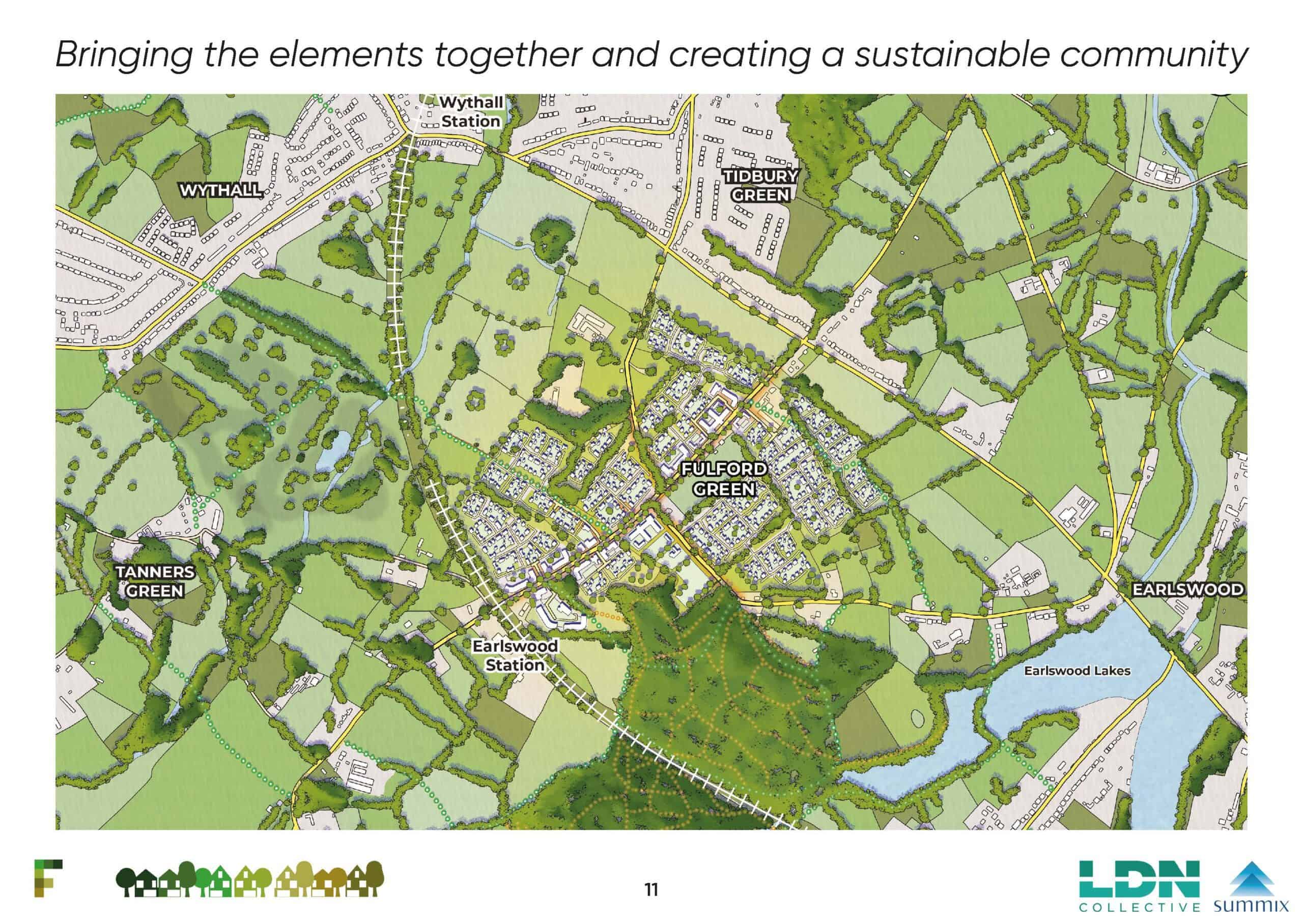 You can watch the recording of The Voice of Authority Webinar here, with panel members including Richard Kimblin QC and Mary Morrisey of Solihull Metropolitan Council and a presentation of Fulford Green by Max Farrell of LDN Collective, as a case study for sustainable placemaking;