Lord Matthew Taylor is an expert in planning policy. Since 2007 he has worked with successive Governments reforming national planning policy to support more sustainable forms of development and improved community engagement in placemaking. He is best known for his work in support of rural communities, developing neighbourhood planning policy and the Garden Communities policies for 21st Century sustainable communities and neighbourhoods. He is a visiting Professor of Planning at the Plymouth University Planning School, a Senior Fellow at Cambridge University's planning department, and an Honorary Member of the Royal Town Planning Institute. In this blog he talks about Harrington, a new settlement in South Oxfordshire with a response to the climate emergency in it's DNA.
"In today's world, where the environment is treasured for its ecological and psychological value and the poor quality of most development is rightfully under scrutiny, we must be prepared to make a persuasive case for any new development. The need for more homes within reach of a range of household incomes is indisputable – but that alone is not enough. New settlements must be designed in a way that is sensitive to local and global environmental challenges, whilst contributing to the economic and social health of an area. What is needed is an exemplary way to fulfil this need, with developments that are deeply rooted in their locality and the ability to evolve sustainably over time.
That's my ambition as part of a team led by the developer Summix and masterplanned by the London Collective, thinking through a 21st century new community at Harrington in South Oxfordshire that would be genuinely sustainable, and a great place to live. The ambition is clear – to adopt a holistic approach and build in solutions from the start, developing a model for a new way of living and a proving ground for new low and zero carbon technologies, achieving and surpassing Oxfordshire's ambitious goals for net zero.
New communities are not new. Every community started that way – evolving to meet the needs of the people that live there. Some evolved, whilst others like Bath, Letchworth and Bourneville were consciously created. We should not be afraid to do the same again, to meet the very new challenges of the 21st century, and we should not have any less ambition to create something truly wonderful. The ambition is for Harrington to have a response to the climate emergency in it's DNA. Enhancing the natural environment, promoting sustainable mobility and connectivity and creating a flourishing community, embracing innovation and promoting a sustainable economy.
There are some who consider the 'onion ring' solution to planning, enveloping historic settlements in a series of new dormitory estates, is the only way to accommodate new development. This leads to a gradual erosion of the qualities that make great places to live, whilst destroying the most valuable greenfield land that gives existing communities their amenity and setting. Our vision for a new settlement at Harrington is a sustainable alternative, creating a 21st Century community that doesn't destroy the setting of historic towns and villages and clog up their streets.
This work to create a new 21st century community has been six years in the making, drawing on expertise from the UK's best place makers, planners, architects, sustainability and zero-carbon experts, transport innovators and social impact thought leaders.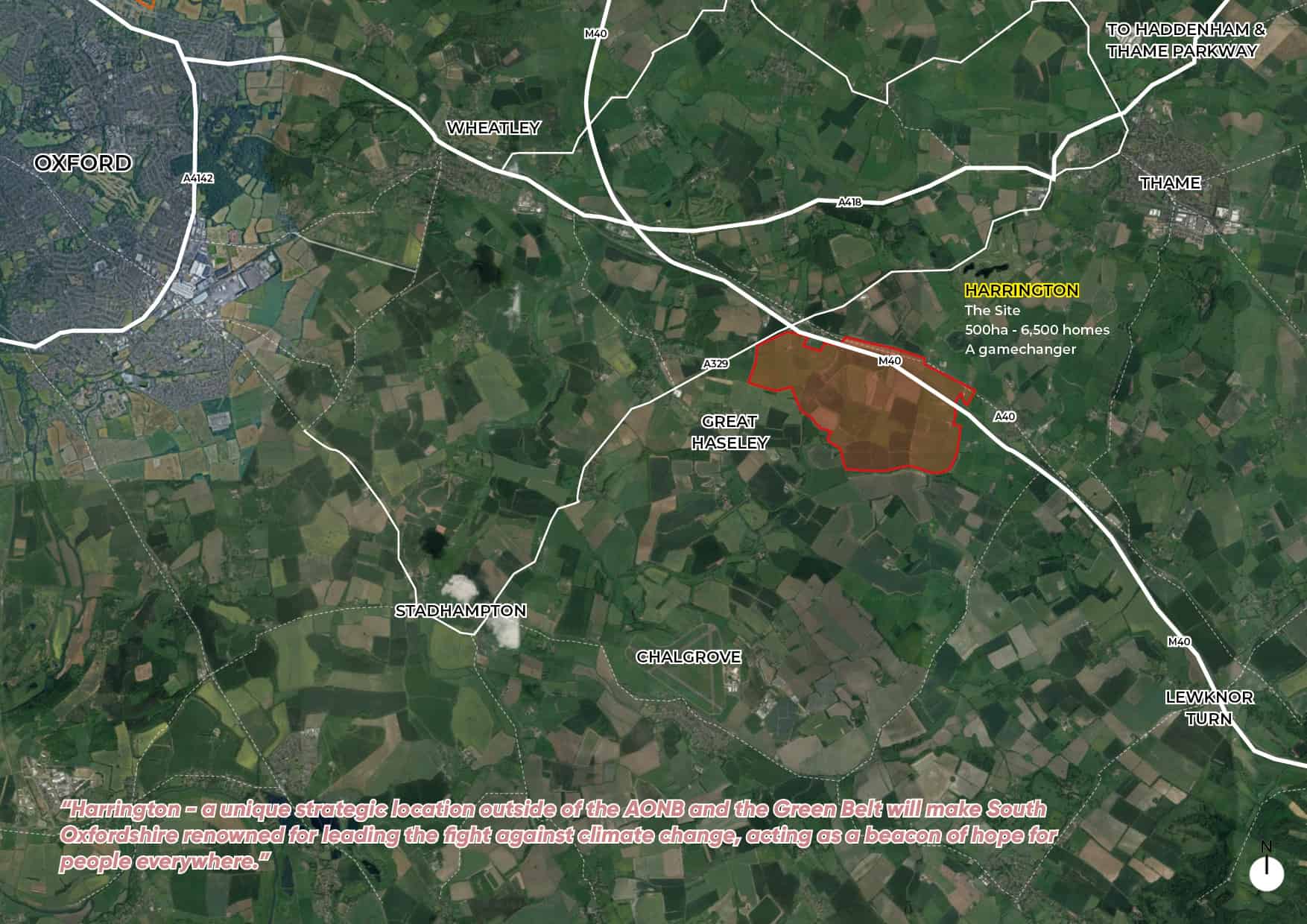 Rooted in historical context yet designed for the future, our ambition is that every aspect of Harrington's planning and design responds to the biggest issue facing us all, the future of our planet. We have to create an opportunity for people to change the way they live and in particular to reduce their need to travel in private vehicles. We have to nurture neighbourhoods and towns which are inclusive, with easy access to services and open space. Never has environmental, social and economic wellbeing been more important. Some believe that it is no longer possible to create great communities in the 21st century, we believe it is essential.
We support the guiding principles set out in the Vision for Oxfordshire 2050 – but setting them out is not enough. They are easy to say, but harder to do. We want to work with stakeholders to create a framework which all new development should accord with and we want to demonstrate that it can be delivered. Implementing a framework which can monitor and measure new development will ensure that the outcomes desired for Oxfordshire are achieved. As a minimum, we will be ensuring that the following principles are enshrined in everything we do;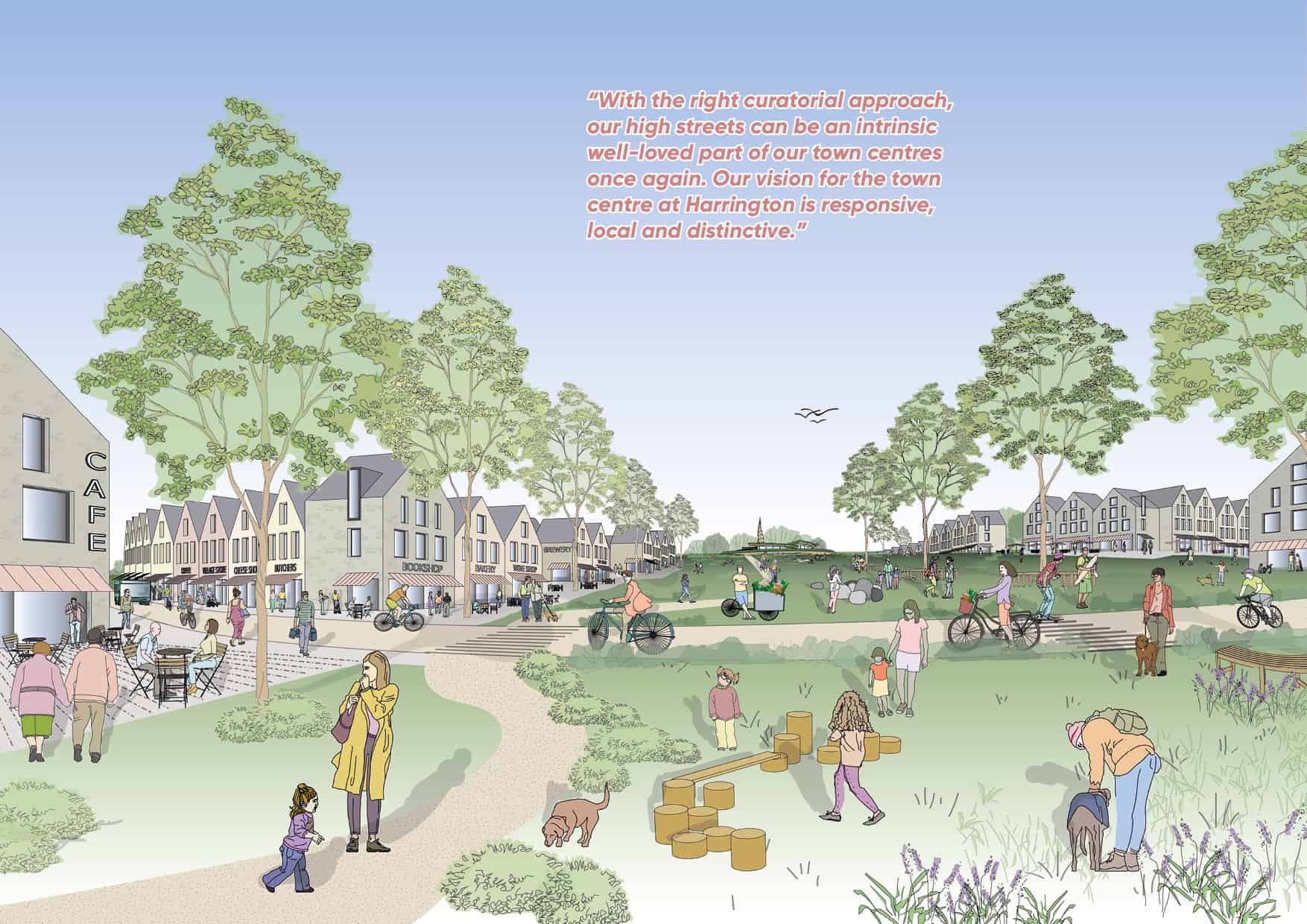 Better Natural Environment
No new development, when assessed, should have an adverse impact on the natural environment. Harrington will be nitrate free and provide a significant biodiversity net gain.
Carbon Neutral
We think Oxfordshire can and should do better than the existing carbon neutral target of 2040. We have seen other districts targeting 2030 and 2035 for district wide carbon neutrality. Some Districts are seeking all new development to be carbon neutral from 2025. The technology is there today. So why not require new development from 2025 to be carbon neutral? Harrington will be.
Happier, Healthier & Inclusive
We have seen in this year of Covid-19 lockdowns how important and beneficial access to private and public open space is, for our mental and physical health and wellbeing. It must surely be clear now that all new development should include access to good quality open space with excellent local services in pleasant walkable neighbourhoods. Harrington is planned this way from the start.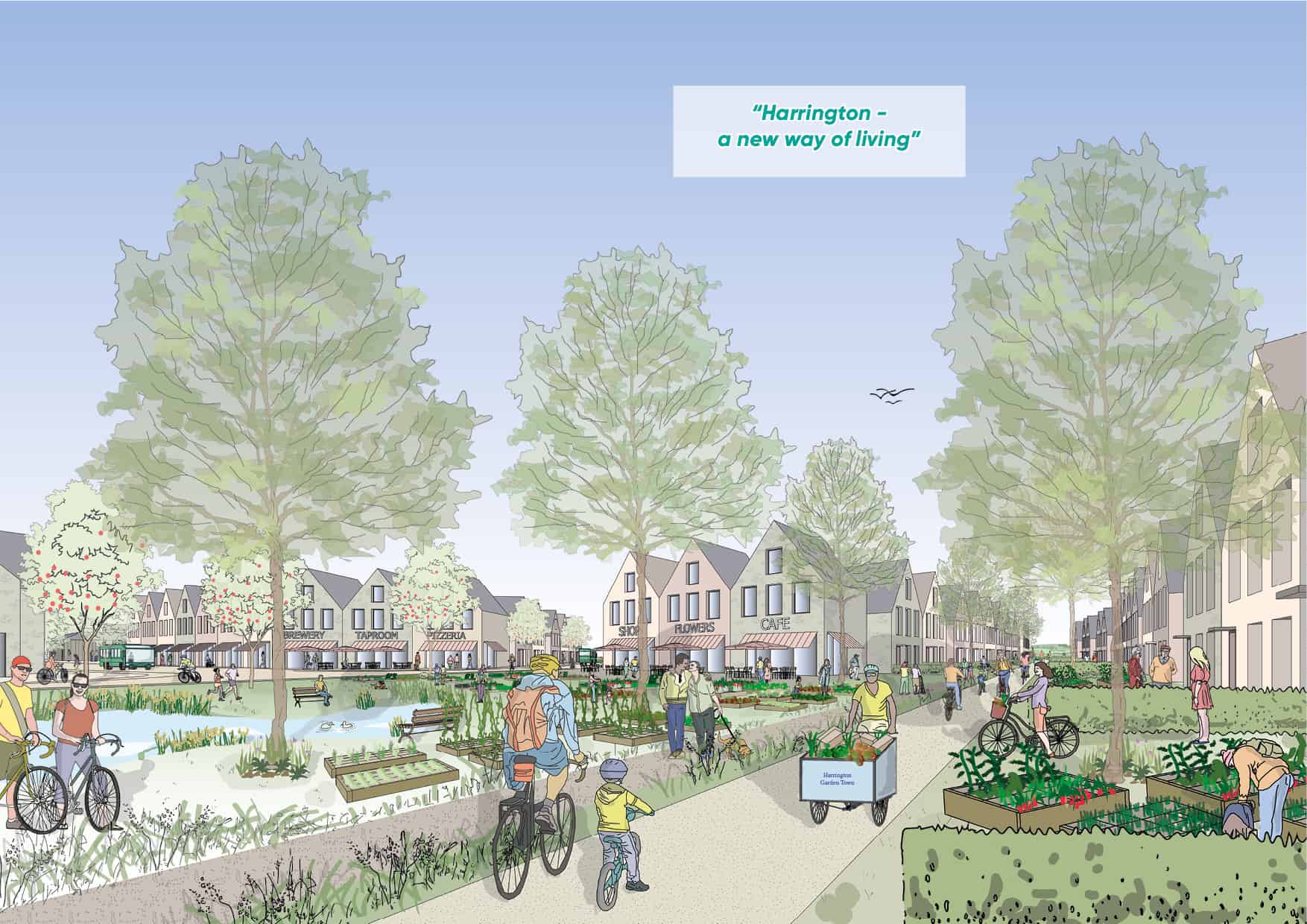 Successful & Sustainable Economy
In order to create inclusive, integrated, happier and healthier communities there needs to be a great range of local services. This includes adequate provision of employment opportunities for all ranges of skills. Harrington will be created in a way that encourages the interconnectedness of the environment, the economy and social wellbeing. New neighbourhoods and local centres will be at the forefront of this thinking.
Quality Homes
All homes should meet the needs of the community, with diverse tenures, great space, and a full range of affordability that meets the range of needs the local area. By using land that does not have the outrageous land values of existing communities, so Harrington allows this diversity and affordability to be delivered at scale, future-proofed by delivering homes that are carbon zero from 2025 with no need for expensive retrofits later on.
Connectivity & Mobility
There are four stages to creating a socially inclusive community:.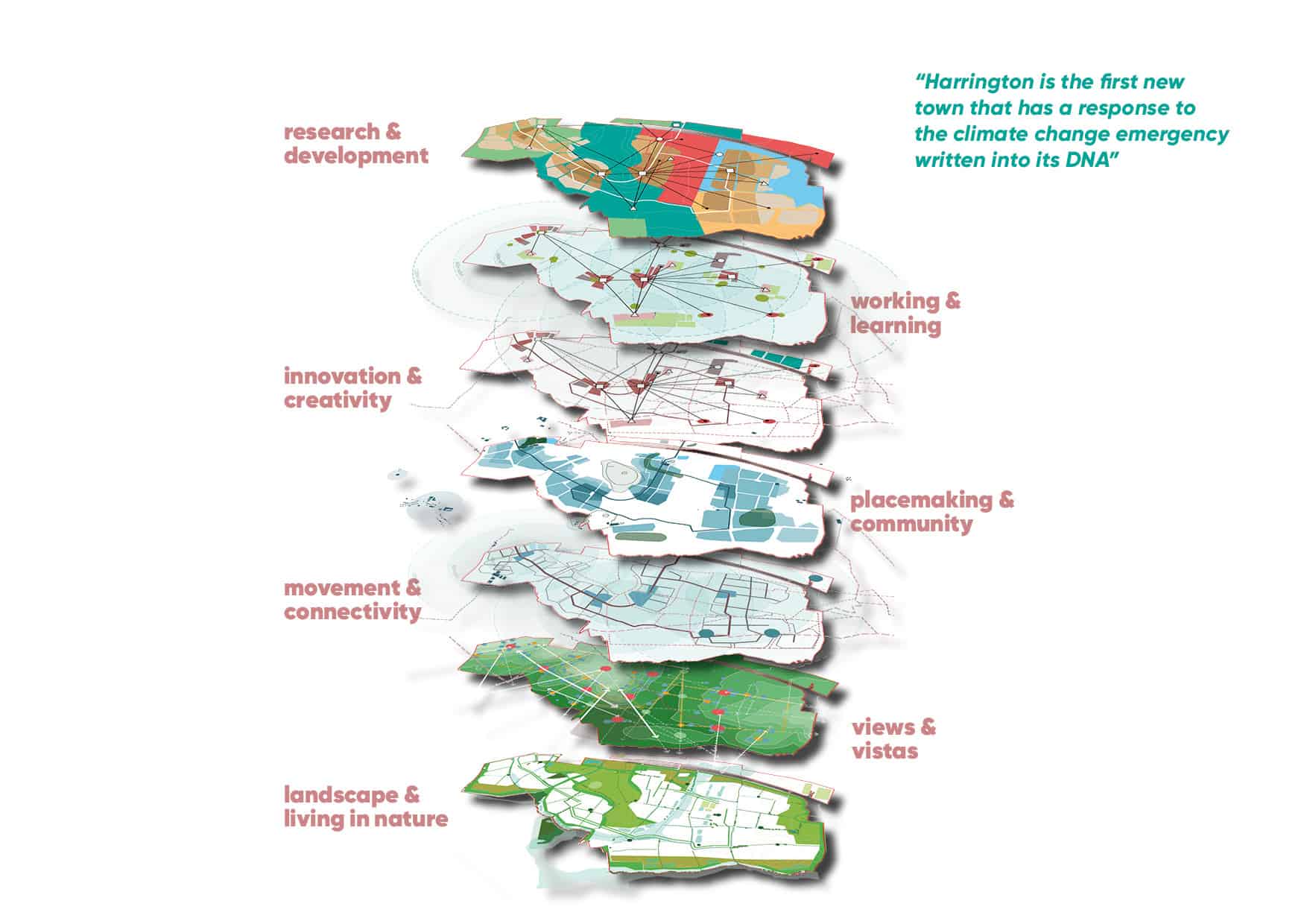 1.Design – creating communities where public interaction, outdoor and indoor, is the norm. Where friends and day to day activities are nearby and easy to get to, and where it is not an automatic need or inclination when leaving home to get into a car. In the 21st century, new development should maximise the opportunity for, and take advantage of, the proximity of a great range of day-to-day facilities. Harrington is designing this in from day one.
2.Choice – providing the infrastructure and facilities to minimise reliance on any single form of travel. This widens social inclusion and makes commuting by car unnecessary. By increasing the choices on offer and making sustainable and healthy options attractive and easy to use, a change in behaviour can be brought about.
3.Behaviour – bringing together awareness, health, environment and personal convenience. One of the 'By Design' aims is to create an environment where fewer people automatically choose to use their cars when leaving their homes, decreasing the demands on road networks (and the planet!).
4.Network Management – managing the travel network with a hierarchy that makes sustainable and healthy living the priority, not the car. This means prioritising the reliability and speed of shared travel and cycle movement over that of cars. At Harrington we are designing 'last-half-mile' mobility hubs to keep HGV's away from residential streets. At the same time, we are making it easy to walk, cycle, use car clubs and other innovative transport solutions which are community focused.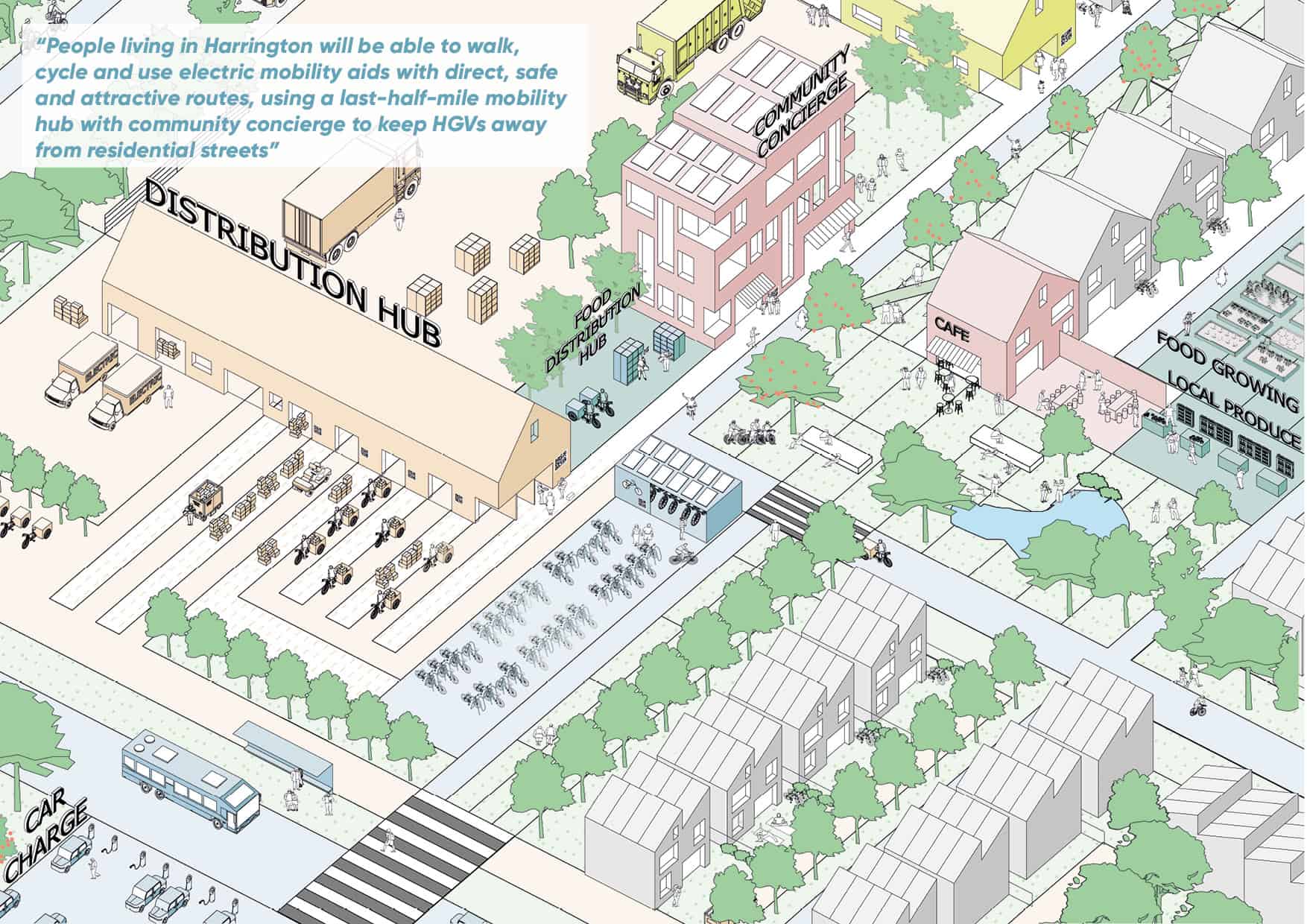 Flourishing Communities
A flourishing community will be the outcome of ensuring and implementing all of the above. Creating a framework which ensures new development takes account of and achieves the outcomes sought by Oxfordshire will create these new, forward thinking places where people will really want to live.
Harrington is an important piece of the jigsaw within the Oxford-Cambridge Arc, an ambition declared jointly by national, regional and local government to become a 'world-leading economic area, acting as a testbed for innovation'. Being in a largely unconstrained location in Oxfordshire, it avoids the green belt and adverse impacts on existing communities or more special environmental and landscape locations. Harrington is the next logical location for newly planned development strategically located between Oxford and London, it can play a critical role by acting as a natural home for innovation within the Oxford-Cambridge Arc. As a team we are looking forward to taking the next step. Working with stakeholders to develop these ideas, shape and ultimately deliver this exemplary, sustainable, and beautiful new community.